VietSeeds Foundation Scholarship Program has been designed to assist students as an opportunity on their road to success, as well as to ease students' university experience.
Our scholar holders are students who come from disadvantaged backgrounds, and have demonstrated abilities and determinations to pursue university.
If approved, the Scholarship Holder will receive a valuable scholarship package, include:
Financial Support which amounts up to USD1500.
1-on-1 mentorship to plan and shape up student's future life. Mentor works on the same major or has experience on what mentee is learning.
Training program in order to provide necessary competencies and explore opportunities to our students, and be a supportive part for them to achieve their goals.
You can find out more about our scholarship package here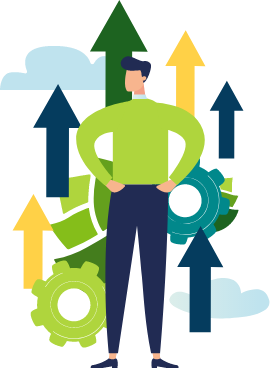 STEP 1
SUBMIT APPLICATION FORM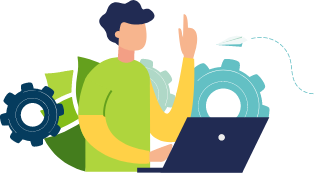 STEP 2
ATTEND THE INTERVIEW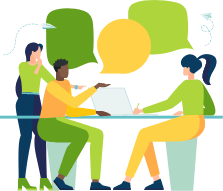 Attend face-to-face individual interview.
STEP 3
JOIN ACCESSMENT CENTER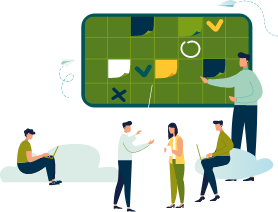 Attend assessment center in group.
Our Recruitment
Processes
STEP 1
APPLICATION FORM
All applicants must complete and submit their applications via the VietSeeds Application platform. This is where you enter data, upload documents, and register your recommendation letter. The following items comprise the components of the Scholarship application:
1. Personal Information (A, D, E)
The Personal Information pages of the application asks for all of your basic personal information, such as your name, contact information, birth date, etc. It also asks for the details of your hometown, contact details, and family information.
Complete all required fields: You should take care to accurately complete all of the required fields in these sections.
2. Academic Results (B)
On this page, you must include your finance situation, an Abstract/Summary of High School/University Entrance Results, and any other rewards/achievements. These sections are a quick reference for screening committees and other reviewers. They should be able to determine your ability to learn, and follow university programs through this abstract. This should be informative, as well.
3. Finance Information (C)
On the finance page, you must include your financial situation, total income of you and your family, as well as applied scholarship. A short summary of other disadvantages you and your family are having will also be helpful. We will use this information to evaluate your financial needs.
4. About Yourself (F)
This 5-questions page outlines the 5 basic questions of your learning path. If you are pursuing a university, developing reasonable, determined and impressive answers is the most important aspect of a successful VietSeeds application.

You will be asked these 5 questions:
What you love to learn the most, and why?
What are your expected major in university, and why?
Why is it important to you to pursue university education?
Why do you deserve a VietSeeds Scholarship?
Other things you want us to know more about you?
 
Note:
Please do not repeat information from other parts of the application.
Length is limited to a minimum of 150 words.
5. Personal Statement (G)
This is a 3-questions-statement which is a narrative that provides a picture of yourself as an individual․ It should deal with your personal history, family background, influences on your intellectual development, the educational, professional, and cultural opportunities (or lack of them) to which you have been exposed, and the ways in which these experiences have affected you and your personal growth․ Include your special interests and abilities, career plans, and life goals, etc․ It should not be a recording of facts already listed on the application․ It is more of a biography, but specifically related to you and your aspirations relative to the specific VietSeeds Scholarship to which you have applied․
Note:
Please do not repeat information from other parts of the application.
Length is limited to a minimum of 150 words.
6. Understanding About VietSeeds (H)
This page of the application asks for all of your basic knowledge of VietSeeds, such as name, how you know about us, founding team, etc.
7. Image (I)
This page requires you to upload images of you, your family, your house, documents to help us clarify your financial situation and other related images.
8. Recommendation Letter (J)
You must submit recommendation letters as part of the application. The authors should be individuals who can best speak to your ability to pursue a university program as well as know well about your financial situation; they should discuss your intellectual and professional preparation. You should provide the recommender with a copy of your Personal Statement before requesting the recommendation letter. The recommendation letter should NOT simply be a character reference.
STEP 2
FACE-TO-FACE INDIVIDUAL INTERVIEW
After the application review process, successful applicants will receive an email, which notify you about the time and venue of the interview. The interview will be a personal time between you and interviewers.
TOPICS OF DISCUSSION IN THE INTERVIEW
1

Your understanding toward VietSeeds: our model, our founding team, our programs, etc.

Our website can give you all those useful information. Take time to read and understand every details possible of the organization that you are striving to become a part of.

2

What can you do to make positive impacts to the society if awarded VietSeeds scholarship?

VietSeeds chooses to invest in underprivileged and highly potential college students, who are not only could end the poverty cycle in their family but also could become changemakers in the society.

3

Other question from both sides to generate better understanding between you and us.

The ultimate goal of this round is generating mutual understanding between you and VietSeeds Foundation. Be prepared, be authentic and be open to share with us.
STEP 3
ASSESSMENT CENTER
Assessment centres are a series of tasks used by us to test skills which are not accessible from the interview alone. An assessment centre usually lasts half a day. You will normally be invited to an assessment centre only after you have passed the initial interview. The assessment centre is the final hurdle in the recruitment process, and is where the VietSeeds really puts the candidate through their paces.
COMPONENT OF AN ASSESSMENT CENTER
WHAT WE ARE LOOKING FOR IN ASSESSMENT CENTER
We look forward to your becoming a part of our scholar network!